Table of contents:
What options do you have if you have two computers at home that you would like to connect to the internet, but you only have one modem. Or if you have large files that you need to transfer between two PCs. Does a solution exist for these situations?
There is an answer to this dilemma. A standard null modem cable is the solution. Using Com ports, you can set up communication between two computers. The null modem's universal cable supports both 9 and 25 pin connectors enabling you to transmit data between your two machines. This solution is not perfect, as it does not provide high-speed data transfer. Employing the dedicated software of a Null Modem Emulator, you can construct a virtual null modem connection. Using a virtual RS232 null modem cable, you can transfer your data much more quickly and are not constrained by the distance between the connected machines.
What is a null modem?
Null modems allow creation of a connection between two computers that don't have modems by way of their RS232 protocol. The RS232 protocol was originally used to connect a telephone modern to a teletype machine. The teletypes communicated to each other through the modems. This asymmetric connection using the RS232 required a modem on one side and a data source or consumer at the other end. Null-modem connection are not standardized, allowing for multiple possible wiring configurations. In this type of connection, the transmission and reception lines are connected crosswise, enabling two-way data transmission.
Today, null modems are used primarily to exchange data between older computers or laptops. These machines may not have a USB port or network card. For these types of machines, a null modem is the only option when data transmission is required.
Null modem cable: RS232 null modem pinout and wiring
As we have seen, null-modem connections are made possible through the use of a null mode cable. This is the simplest solution to connecting the two computers. But what is a null modem cable? The cable is comprised of three lines. One wire serves as the signal ground with the other two lines fostering the transmitting and receiving of your data. Based on the software used in this connection, some kind of authenticating handshake may be necessary.
Below are the most common schemes of null modem cables.
Null modem cables

The following is Microsoft 's recommended RS232 cable wiring including full authentication handshaking.
RS232 cable wiring scheme by Microsoft has become the industry standard, using a cable made up of seven wires.
Virtual null modem emulator
As we stated previously, a null-modem cable connection will not provide high-speed data transfer. It is limited by the maximum data transfer speed of a COM port which in theory is 115 kb/s. This speed is dependent on cable length and in practice does not approach the COM port's maximum capacity.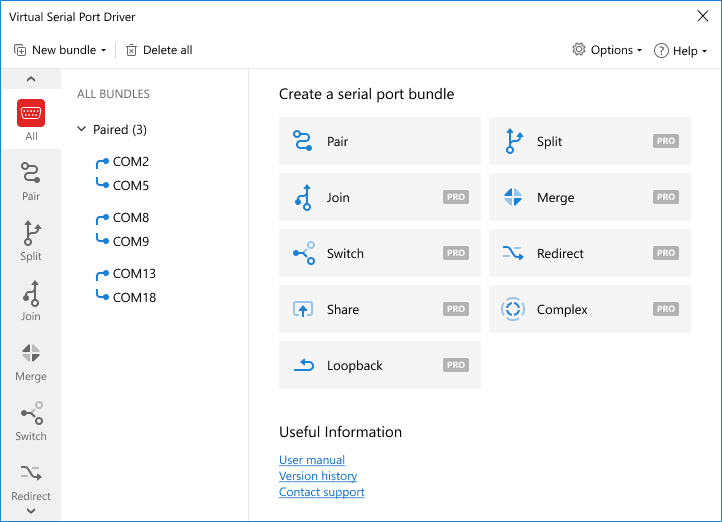 Using a null modem emulator allows effective and higher-speed data transfer using your null modem. This is a software application that connects COM ports by way of a virtual null modem cable.
Virtual Null Modem software allows you to create pairs of virtual serial ports. The software facilitates two-way communication between these paired COM ports, making data sent to one COM port immediately available in the paired port.
Using virtual null modem software to transmit data through a virtual cable is a better option than simply using a physical cable. Virtual COM Port Driver supports all standard hardware signal lines (DTR/DSR, RTS/CTS, RING, ERROR, DCD, etc.). It also makes it possible to simulate the breaking of a serial connection. This null software emulator also supports full HandFlow control and strict baud rate emulation.

#1 at Communication Application
Virtual Serial Port Driver
Create virtual COM port pairs in Windows
4.9
rank based on
367
+ users
Get a download link for your desktop
Submit your email address to get a link for quick download on your desktop and get started!
Requirements:
,
6.55MB
free space
Category:
Communication Application
Demo limitations:
14-day fully-functional trial